Fresh off of their national team championship from the American Forensic Association, the University of Texas Speech Team traveled to Muncie, Indiana, from April 14-18, to attend the National Forensic Association collegiate national contest. Texas Speech again set a national record, winning 7 of the 10 event categories while at the same time winning the top overall individual speaking title and the Founder's Award, a special cumulative team national title.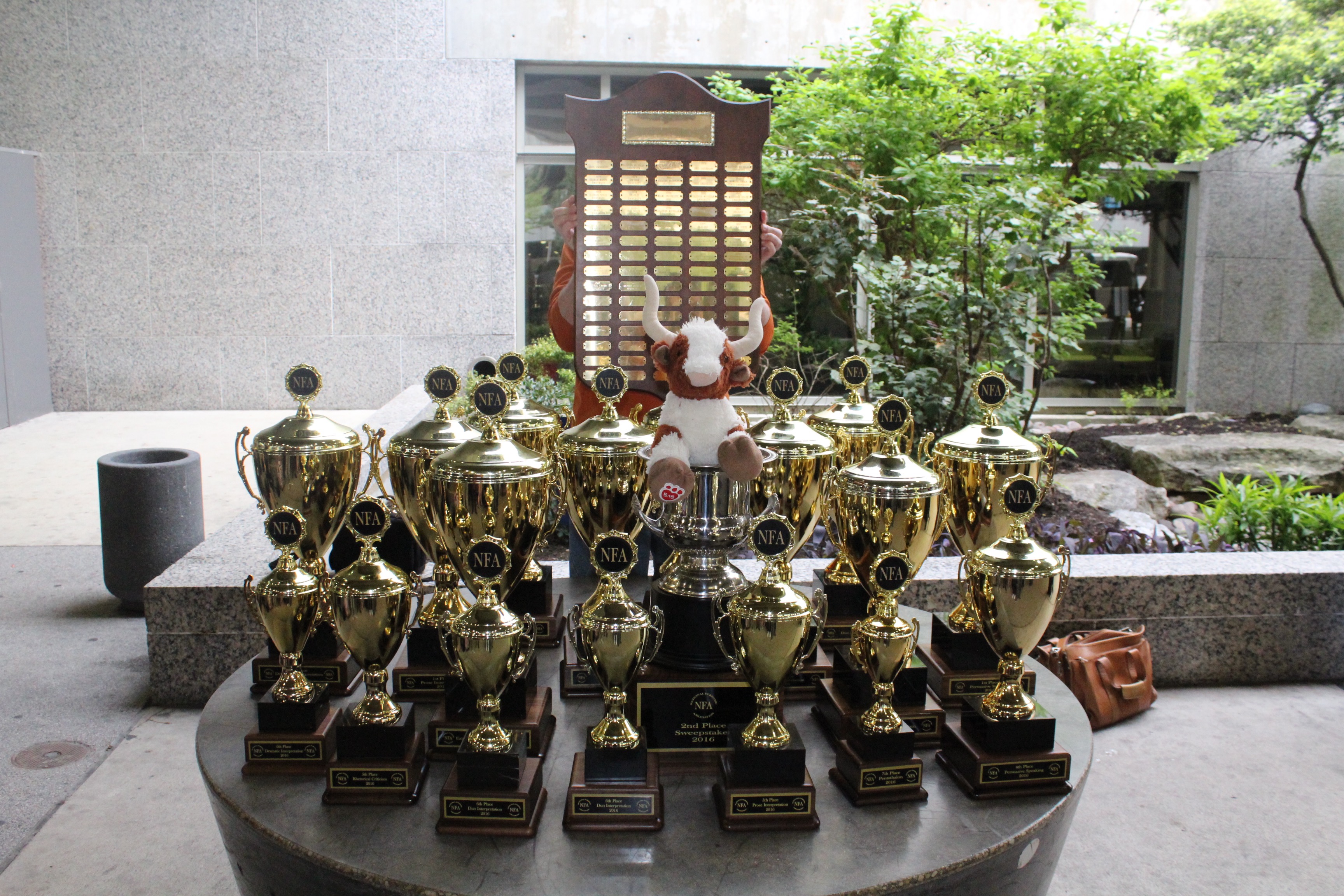 The team placed second to Western Kentucky University in the open sweepstakes category, based on the total number of entries advanced to elimination rounds and their eventual placement, but one of the biggest stories of the tournament was the display of excellence by UT students in the individual categories.
For the third time, team captain Farrah Bara was recognized as the top overall speaker at a national contest, winning the Pentathlon national championship. Bara also was recognized with national championships in Persuasive Speaking and Extemporaneous Speaking, was the national runner-up in Rhetorical Criticism, and placed 5th in Impromptu Speaking.
Senior Kevin King received his fourth consecutive national championship in Informative Speaking, finished 4th nationally in Persuasive Speaking, and 5th in Rhetorical Criticism. King also received 7th place in the overall standings.
Seniors Lizzette Marrero and Alexa Thomas won the national championship in Duo Interpretation, with Thomas also placing 5th in Prose Interpretation.
Sophomore Abigail Onwunali was recognized with three national championships, in Prose Interpretation, Dramatic Interpretation, and Poetry Interpretation. She became the first student ever to win national titles in three different performance categories in the same year at the NFA tournament. Onwunali also placed 6th in Duo Interpretation with her partner Xavier Clark, and Clark placed 6th nationally in Dramatic Interpretation. Sophomore Arel Rende was also recognized as a national finalist, placing 5th in Extemporaneous Speaking.
The previous record for national titles in a single contest (five plus the top speaker) had been set by Miami University of Ohio in 2002. That record was matched by Bradley University in 2013.
The Founder's Award is a team national title based on a cumulative system acquired over years. According to team director Randy Cox, the award is special because it recognizes excellence over multiple years rather than a single instance.
Texas Speech finishes the year having been awarded 15 combined national champi0nships from the American Forensic Association and National Forensic Association (including the AFA national team title), the NFA Founder's team title, and along with Texas Debate, the American Forensic Association Joint NDT-NIET Award.
Individual Honors are as follows:
Farrah Bara (Lib Arts – Middle Eastern Studies Senior)
National Champion, Pentathlon (Overall Speaker)
National Champion, Extemporaneous Speaking
National Champion, Persuasive Speaking
National Runner-Up, Rhetorical Criticism
5th place, Impromptu Speaking
National Semi-Finalist (Top 12) – After-Dinner Speaking
National Semi-Finalist (Top 12) – Informative Speaking
Kevin King (Lib Arts – Government Senior)
National Champion, Informative Speaking
4th place, Persuasive Speaking
5th place, Rhetorical Criticism
7th place, Pentathlon (Overall Speaker)
Alexa Thomas (Comm – Public Relations Senior)
National Champion, Duo Interpretation (with Lizzette Marrero)
5th place, Prose Interpretation
Lizzette Marrero (Lib Arts – Government & Global Studies Senior)
National Champion, Duo Interpretation (with Alexa Thomas)
National Semi-finalist (top 12), Poetry Interpretation
National Quarter-Finalist (top 24), Duo Interpretation (with Julio Gonzalez)
Abigail Onwunali (Nat Sciences – Human Development & Family Sciences)
National Champion, Dramatic Interpretation
National Champion, Poetry Interpretation
National Champion, Prose Interpretation
6th place, Duo Interpretation (with Xavier Clark)
Xavier Clark (Comm – Political Communication Senior)
6th place, Dramatic Interpretation
6th place, Duo Interpretation (with Abigail Onwunali)
National Semi-Finalist (top 12), Poetry Interpretation
Arel Rende (Business Sophomore)
4th place, Extemporaneous Speaking
National Semi-Finalist (top 12), Impromptu Speaking
Ali Shan Ali Bhai (Lib Arts – Plan II Junior)
National Semi-finalist (top 12), Rhetorical Criticism
National Semi-finalist (top 12), Persuasive Speaking
National Quarter-Finalist (top 24), Extemporaneous Speaking
Alex Bergeron (Comm – Corp Com Senior)
National Quarter-Finalist (top 24), Prose Interpretation
Cole Hanzlicek (Lib Arts – Government Junior)
National Quarter-Finalist (top 24), Informative Speaking
Rachel Evans (Nat Sci – Biology Freshman)
National Quarter-Finalist (top 24), Informative Speaking
Jordan Auzenne (Comm/Political Comm Freshman)
National Semi-Finalist (top 12), Impromptu Speaking
Derrek Chung (Lib Arts – Government Junior)
National Semi-Finalist (top 12), Informative Speaking
National Quarter-Finalist (top 24), Impromptu Speaking
National Quarter-finalist (top 24), Rhetorical Criticism
Steven Villescas (Comm – Human Relations Senior)
National Semi-Finalist (top 12), Persuasive Speaking
Marianna Garcia (Comm – Political Communication Sophomore)
National Semi-Finalist (top 12), Poetry Interpretation
Julio Gonzalez (Comm – Public Relations & Lib Arts – Plan II Junior)
National Semi-Finalist (Top 12), After Dinner Speaking
National Semi-Finalist (top 12), Persuasive Speaking
National Quarter-finalists (top 24), Duo Interpretation with Lizzette Marrero
Terran Duhon (Lib Arts – Rhetoric & Writing Senior)
National Quarter-Finalist (top 24), Poetry Interpretation
National Quarter-Finalist (top 24), After Dinner Speaking
Blake Bergeron (Bus – Finance Sophomore)
National Quarter-Finalist (top 24), Persuasive Speaking
Additional Team Members not receiving separate individual awards:
Cimmiaron Alvarez, Govinda Dass, Mary Claire Phillips, Bianca Montgomery, Seis Steves, Angelo Gaunichaux, Collin Hopkins, Sana Moti, Andrew Rodriguez, Jordan Rojas, Cameron Smith, Macy Bayern, Suchinder Kalyan, Alex Meed
Complete results for the national contest are available at: http://www.speechwire.com/nfa16.pdf
For more information about the National Forensic Association, see their website at: http://www.nationalforensics.org
For more information about Texas Speech, contact Director Randy Cox, Moody College of Communication, at mrcox@austin.utexas.edu