Meet our 2014-2015 Freshman Class!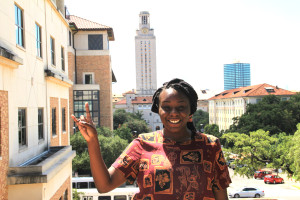 Name: Abigail Chinazam Onwunali
Hometown: Houston, Texas
High school: Alief Hastings High School
Major Concentration: Chemistry
Events you are doing this year: Dramatic Interpretation, POI, Prose, Duo
How long have you been doing speech?
I have been doing speech for 3 and a half years.
What is your favorite thing about forensics?
The beauty of creating your pieces and making them come to life.
What is your favorite thing about UT?
My favorite thing about UT is that I feel like I am part of a beautiful family that truly cares about me. It is a loving environment filled with talenedt and ambitious young people.
The team is…. 
My shelter. They have been a shield of protection since the minute I stepped foot on campus.
What is the best advice you've ever received?
 "Have fun Abigail, and don't let anything stand in your way."
Describe yourself in three words.
Ambitious, Caring, and Hardworking
What is your spirit animal?
Tiger
What is your favorite color?
Purple
What is your favorite food?
Rice Crispy Treat
In 15 minutes… I see myself 
Going to my statistics class.
In 15 years… I see myself
Making a difference in the world by finding a cure for major diseases.