The University of Texas intercollegiate speech team, Texas Speech, travelled to Tuscaloosa, AL to compete at the 2019 American Forensic Association National individual Events Tournament, April 4-7. The team placed 3rd nationally at the contest, hosted by the University of Alabama. The team amassed 456.5 points at the contest, finishing ahead of the University of Alabama (398 points), George Mason University (259.5 points), and behind Western Kentucky University (495 points), and tournament champions Bradley University (506.5 points).
The top 10 also included the University of Nebraska at Omaha (6th), Northwestern University (7th), the University of Nebraska at Lincoln (8th), Hastings College of Nebraska (9th), and Illinois State University rounding out the top 10.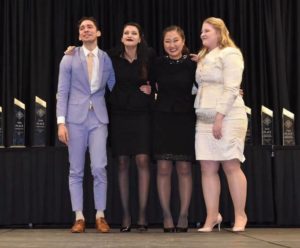 Senior Sarah Courville was recognized as the 2019 AFA National Champion in Dramatic Interpretation, and she was joined by teammates Juan Nunez, Kimberly Lee, and Danielle Castillo for a very rare close-out of the top 4 places in a single category.
Sophomore Nunez and early graduating Senior Dyana Martinez each twice finished as national runners up in their respective events, narrowly missing national titles in Dramatic Interpretation, Program Oral Interpretation, Extemporaneous Speaking, and Communication Analysis. Martinez also placed 5th in Persuasive Speaking. Senior Jordan Auzenne placed in the top 3 in two categories—Persuasive Speaking and Communication Analysis, and Seniors Rachel Evans & Seis Steves were also both recognized as national finalists, with Evans placing 3rd in After Dinner Speaking and Steves placing 6th in Prose Interpretation.
The team travels next to Santa Ana, California, for the National Forensic Association national tournament, followed by an appearance for Junior Sabrina Savoie at the Interstate Oratorical Association contest in Westchester, PA.
Congratulations to the following students on their individual awards:
National Quarter-Finalists (top 24 nationally)
Briana Mier & Carlos Diaz (Duo Interpretation)
Caleb Newton (Persuasive Speaking)
Danielle Castillo (Prose Interpretation)
Dyana Martinez (After Dinner Speaking)
Erin Swearingen (Persuasive Speaking)
Evan Ortiz (Persuasive Speaking)
Jordan Rojas (Communication Analysis, Extemporaneous Speaking & Impromptu Speaking)
Juan Nunez (Informative Speaking)
Katayoun Khalilian (Extemporaneous Speaking)
Kimberly Lee (Program Oral Interpretation)
Maxim Belov (Extemporaneous Speaking & Impromptu Speaking)
Nader Syed (Extemporaneous Speaking & Impromptu Speaking)
Rachel Evans (Communication Analysis)
Sarah Courville (Prose Interpretation)
Seis Steves (After Dinner Speaking, Informative Speaking, Dramatic Interpretation, Program Oral Interpretation)
National Semi-Finalists (top 12 nationally)
Briana Mier & Danielle Castillo (Duo Interpretation)
David Rodriguez (Poetry Interpretation)
Elizabeth Boone (After Dinner Speaking)
Jordan Auzenne (Extemporaneous Speaking)
Nader Syed (Persuasive Speaking)
Sarah Courville (After Dinner Speaking)
National Finalists (Top 6 nationally)
Sarah Courville – National Champion (Dramatic Interpretation)
Juan Nunez – 2nd place (Dramatic Interpretation & Program Oral Interpretation)
Dyana Martinez – 2nd place (Communication Analysis & Extemporaneous Speaking)
Kimberly Lee – 3rd place (Dramatic Interpretation)
Jordan Auzenne – 3rd place (Communication Analysis & Persuasive Speaking)
Rachel Evans – 3rd place (After Dinner Speaking)
Danielle Castillo – 4th place (Dramatic Interpretation)
Dyana Martinez – 5th place (Persuasive Speaking
Seis Steves – 6th place (Prose Interpretation)
Overall Speaker:
Dyana Martinez – 8th place Speaker
Seis Steves – 15th place Speaker
Juan Nunez – 17th place Speaker
Jordan Auzenne – 19th place Speaker