Meet out 2014-2015 Freshman Class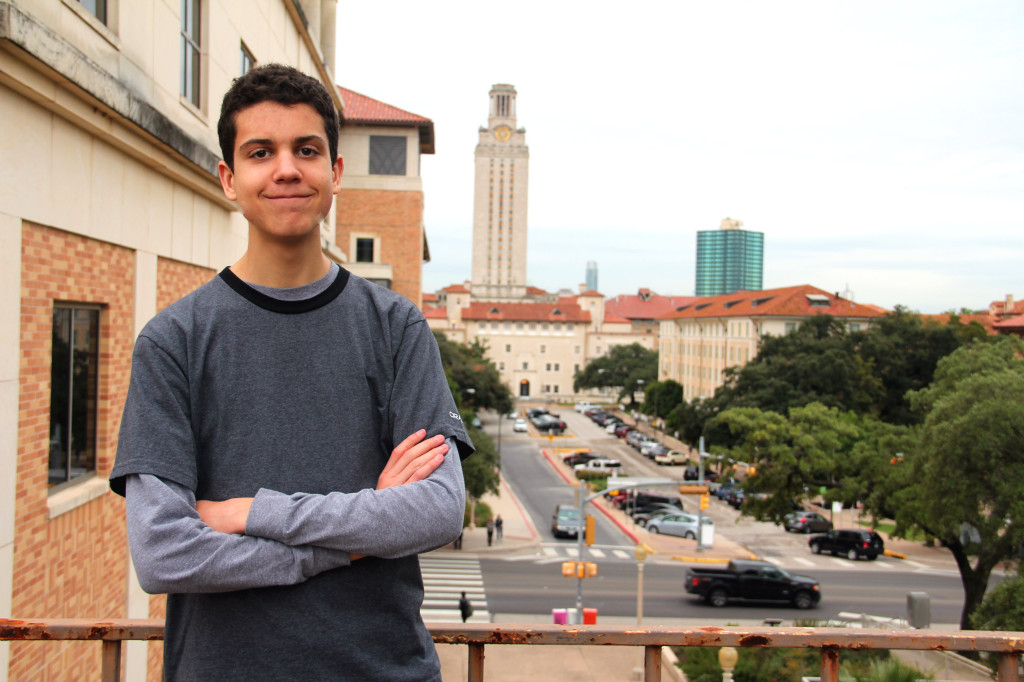 Name: Alex Meed
Hometown: Pflugerville, TX
High School: Pflugerville High School
Major Concentration: Computer Science
Events you are doing this year: Extemp, Impromtu, Informative
How long have you been doing speech?
This is my fourth year.
What is your favorite thing about forensics?
Lately, I've come to appreciate how easy it is to meet so many amazing people–not just on my team, but across the circuit. I like to believe that I'm better at the whole "social skills" thing than I used to be, and I've enjoyed getting to know other people who share the same commitment to this activity that I have.
What is your favorite thing about UT?
A lot of what I like about UT comes down to its size. The Computer Science department is excellent (a team of undergrads recently won a prize from IBM after designing a product using its Watson system; shout-out to them!). I always feel like I have the resources I need to do well academically as well as competitively. And, since I live just north of Austin, and since UT is the biggest university near my home, a bunch of my high school classmates are now freshmen at UT; it's nice to be able to maintain ties with my old friends and simultaneously build new relationships.
The coaches are…
Useful. I've had practice sessions with a lot of them, and I've found that each one gives a unique perspective to the table and I hope to continue to make use of the diverse array of talents that we have.
Best advice you've ever received:
When I graduated high school, many of my classmates told me to "never change." So, at the end of every tournament, when all of my teammates are changing, I just take off my tie. Who needs casual when you have Alex Meed casual?
Describe yourself in three words:
One of my professors called me "an articulate nerd." I'm a fan of that.
What is your spirit animal?
My spirit animal is Homo sapiens. I feel that it reflects a lot of my own personal qualities.
Favorite Color:
Green.
Favorite Food:
Whatever's closest to where I'm currently located
In 15 minutes…
I'll be finishing up my assembly language assignment for Computer System Architecture.
In 15 years…
I'll be working at a software company. I don't know what I'll be writing–maybe a game, maybe a website, maybe a phone app–but whatever it is, it'll be written in code.